An exclusive comparison of 10 no-code/low-code AI platforms
Published on

Jun 13, 2022

by
---
The evolution of technology never ceases to amaze us.
A few decades ago, AI was in its infancy and only specialized for coding and technology experts. Today, anyone can realize an end-to-end AI project in a few clicks with a no-code/low-code AI platform. It makes the realization of AI projects as fast as ever and democratizes it for everyone. 
The adoption and the development of no-code/low-code platforms have become increasingly popular among businesses, including those used for performing end-to-end AI projects. 75% of companies will adopt this innovation, and the development of such platforms will represent more than 65% of application development activity in 2024, according to Forbes.
This growth may lead you to ask: "Which no-code/low-code AI platform should I use to meet my business needs?".
That's why this blog is written to compare no-code/low-code AI platforms, to bring you information on which ones meet your needs and make your business more efficient than ever.
Enjoy reading!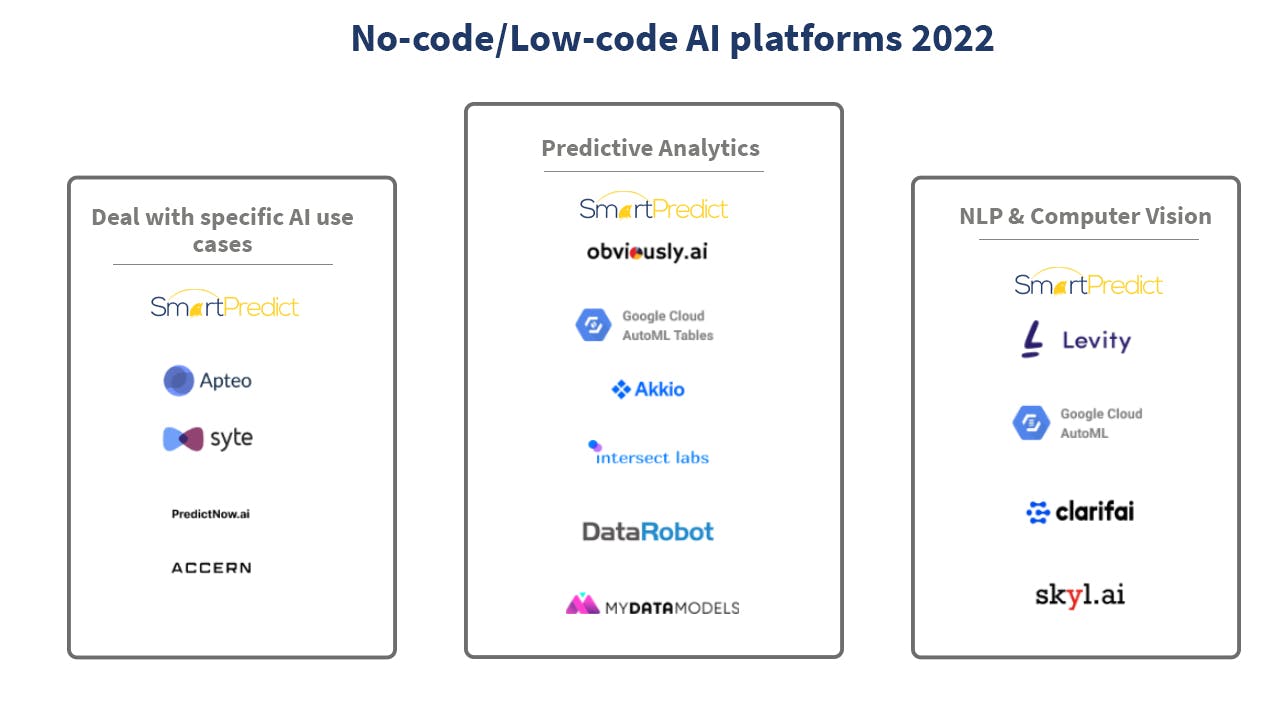 First of all, what are no-code/low-code AI platforms?
As the name suggests, no-code/low-code AI platforms are SaaS or on-premise tools that allow anyone to run an AI project with less or no code. These platforms can offer as many possibilities of functionalities to achieve this goal. Most of them are based on a drag and drop interface, and more opt for automation processes. 
At the end of this article, you will discover how they work specifically to promote this no-code and low-code capability. 
In other words, they democratize the implementation of AI projects so that business people and other professionals with limited AI knowledge to build models realize end-to-end AI projects with less effort and efficiency.
Why do no-code/low-code AI platforms matter for business?
 As we know, AI is an uncontainable tool for successful modern businesses because this technology can quickly analyze, get more insight, and learn from massive data. AI is a superior technology that can accurately predict future events such as sales, customers churn, etc. You can also use it to automate and replace human tasks with machines, like detecting whether a transaction is fraudulent or not, recognizing and detecting an object in real-time in a video and many images, extracting information from an image file, and chatting with customers, etc. Then leveraging AI projects in business activities is just beneficial for them. 
Moreover, to make companies more efficient than ever and the first in this world's competition, they should opt for a no-code/low-code AI platform because it is speedy and reduces the cost of completing an AI project. Indeed, they don't need to hire AI experts, and users can execute all AI processes smoothly and in no time, as the low-code AI platform promises.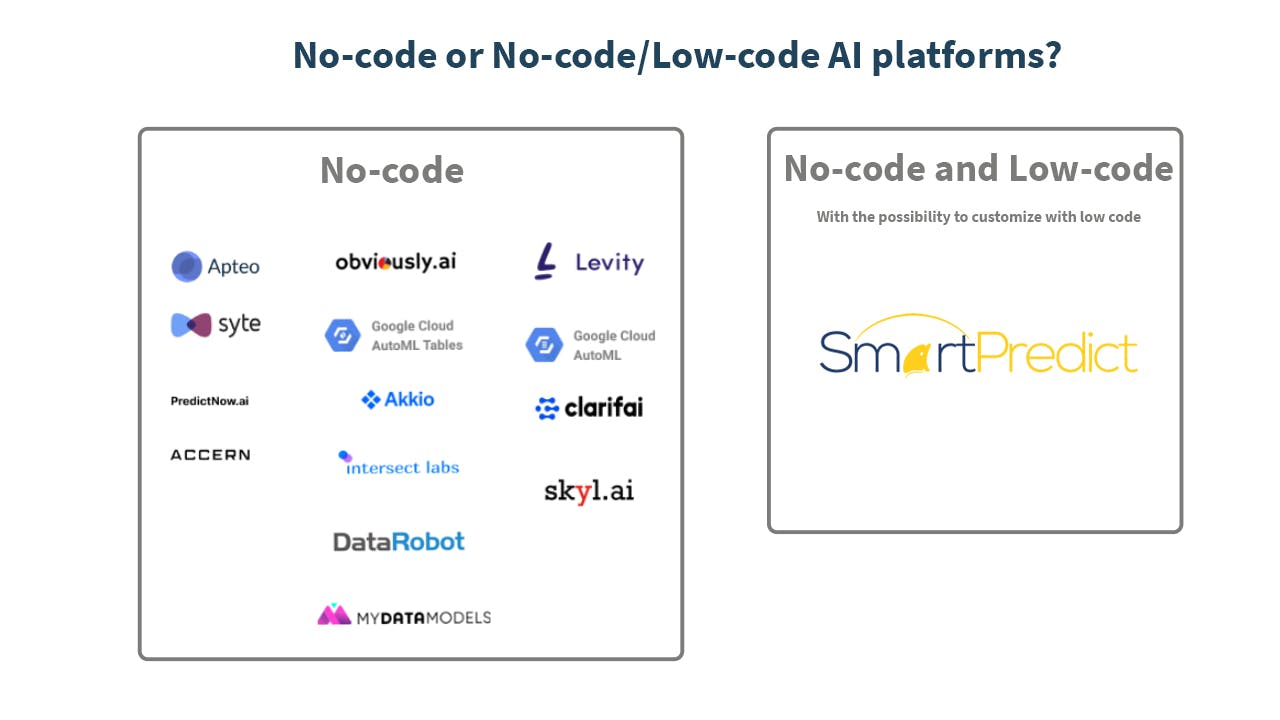 Let's start comparing some of these no-code and low-code AI platforms.
To conduct this comparison, we examine the following aspects of each platform:
How do you carry out AI projects with the AI platform?
What kind of AI solution does it bring to companies?
Does it allow customizability?
A glance at the price.
Google Cloud AutoML Tables
Google Cloud AutoML Tables is a Google Automation AI process that allows you to build and deploy ML models for predictive results in a few clicks from structured data.
Professional users can benefit from the ease of use and make predictions on the platform. It doesn't allow any customizability, although it provides an evaluation of the resulted trained model that technical users can only understand. Otherwise, the deployed model can be accessible with the REST API and need technical understanding. 
Google Cloud AutoML Tables pricing depends on many conditions. In a blog, we found that model training costs $19.32 per hour.
DataRobot
Datarobot is a cloud AI platform founded in 2012 that democratizes ML and data science for everyone with its AutoML solution. Users present their raw data in a table and run the entire process in one click until a predictive model is generated. Datarobot Autoflow trains many open sources of ML models, and it is up to users to choose the best ML models to deploy with one click. 
The platform does not allow customization, but it will enable a complete interpretation of the results. 
Datarobot is primarily designed for data analysts and data scientists, and business users can leverage the easy ML project processes. Users can get predictions directly from the platform and can use the API.
DataRobot is not very open about its pricing, but on the AWS marketplace, we can see that the DataRobot Managed Cloud AutoML will cost you almost $100,000 per year.
Akkio
Akkio is a no-code AI platform that emerged in 2019. It targets predictive AI marketing solutions, like churn prediction, to bring any modern business to AI. Users integrate their row dataset, build a flow by dragging and dropping blocks and can train, deploy and predict in a few clicks. This platform is specifically designed for non-technical users and does not allow customization of the AutoML process result. In any case, the platform gives transparency and interpretability.
Users can get the prediction on a web page or use the generated API.
At Akkio, the price starts at $62.50 per month with a limited 10,000 actions.
H2O
H2O is a data scientist tool founded in 2011 that accelerates all  AI processes with its AutoML for everyone. Users integrate their data into the platform and can get data analysis and run an end-to-end AI project in a few clicks for an ML predictive analytics project. It is a platform specifically designed for data scientists to interpret technical results and can also be used by non-technical users. The deployed AI is accessible via the generated API.
The AutoML results are not customizable, but H2O generates full interpretability of the automation AI process. 
H2O does not openly state its price; however, we found the price list for H2O AI in IBM's documentation, which shows subscriptions ranging from $300,000 (3-year subscription) to $850,000 (5-year subscription with GPU).
Obviously AI
Obviously.ai is the no-code platform founded in 2020 that handles the same as described below with a few clicks: users upload their historical datasets to get predictive models and forecasts and an API that can be used to integrate the deployed model into applications and websites. The platform is primarily designed for non-technical staff and does not allow customization. Pricing for Obviously AI starts at $99.00 per feature per month.
Clarifai
Clarifai is a no-code/low-code AI platform founded in 2013 for computer vision, and NLP solution AI use cases. Users gather their data to build their training dataset and can start building models, validating and evaluating various test and deployment cases with low-code and AutoML. It is also a tool for building a transfer learning platform. Image, video, and text recognition solutions are built on an advanced machine learning platform and made easily accessible via API, device SDK, and on-premise. It is an AI platform for developers, data scientists, and no-code operators.
Essential functionality will be priced at $30/month versus $300/month for professional use.
Levity
Levity is a platform that focuses on image, text, and document classification and enables non-technical users to automate their tasks with the power of AI solutions. They can perform Email content analysis - Customer support ticket prioritization - Survey response grouping - Document filing & routing - Detections of product defects. It allows users to provide an end-to-end AI solution with no code, integrate it with all tools used daily, and give users complete control over their AI project. 
Levity pricing starts at $100.00 based on usage per month. It doesn't have a free version.
CreateML
CreateML is an Apple AI platform founded in 2018 that allows developers and no-code operators to deploy custom ML models using transfer learning. Users only choose an AI model that can train with their data, whether image, video, motion, sound, text, or tabular, for providing an AI solution like classification, regression, recommendation, and detection. Then the AI solution can be embedded in any IT environment. 
CreateML gives a free version and doesn't allow a free trial.
Apteo
Apteo is an AI-driven automated retention marketing and analytics tool for eCommerce. It helps personalize campaigns, automate marketing, and help to understand customer behavior. Its use is mainly for non-technical users, and only the results are visualized only on the platform. 
Apteo pricing starts at $57.00 as a flat rate per month. They do not have a free version.
SmartPredict
SmartPredict is a no-code/low-code SaaS AI platform based on open-source technologies founded in 2018 that offers three possibilities for a smoother realization of any AI project from model training until its deployment:
1) Ready-to-use AI use cases that are AI-driven business solutions like Credit Card Fraud Detection. Users can run them with their dataset and within a straightforward configuration in a few clicks.
2) Autoflow: the SmartPredict AutoML solution allows users to run all automation AI processes in clicks and deliver accurate time series forecasting like sales forecasting from raw data through state-of-the-art ML models.
3) Manualflow: this SmartPredict solution allows data scientists to realize an AI project from scratch until the model deployment in a drag and drop interface with pre-built configurable modules and low code.

Both professional and technical users can benefit from these options and can realize any AI projects : 
Computer Vision like Object Detection, Document Segmentation & OCR, Image classification, etc. 
NLP projects like Speech-to-text and Text-to-speech, etc.
Commerce and Finance AI projects like Sales forecasting, Recommender System, Sales forecasting & Inventory optimization, Credit Card Fraud Detection, etc.
And other predictive ML models.
In addition to the platform's ease of use, SmartPredict has focused on the possibility of customization and editing the result ML workflow of all automated AI processes in a drag-and-drop workspace with low code so that users have full control over AI projects. It also gives complete accessibility to the deployed project with the generated API, which is not vendor-locked.
Conclusion
As we can see, many AI platforms have emerged over the last decades. 
The choice mainly depends on your needs, such as the type of AI project you want to carry out and how you proceed within the platform. Price is also important when you have a budget in mind. That said, it's up to you to decide which one to use, and I hope this article will provide you with some helpful information for your choice. In any case, I suggest watching some video demos and trying them out with their free version.
With SmartPredict, you can complete any AI project, as it allows you to customize any AI process with low code in a fancy and smooth way. You can also benefit from free resources to carry out an end-to-end AI project, from model building to evaluation and deployment.
You can check out its youtube channel and websites to see some demos.