The rise of Low Code and No Code AI for every business
Published on

Apr 26, 2022

by

Dhvani Shah
---
Human beings have been under a process called human evolution. Nowadays, when we look back to those times, we imagine how life was back then. Well, in a few years from now, we will be looking back to the "old days" with nostalgia and remembering how we used to code, as Artificial Intelligence is changing our environment and increasing the Low-Code/No-Code concepts. Well, at the end of this article, you will be able to see the future of Low-Code/No-Code for every business.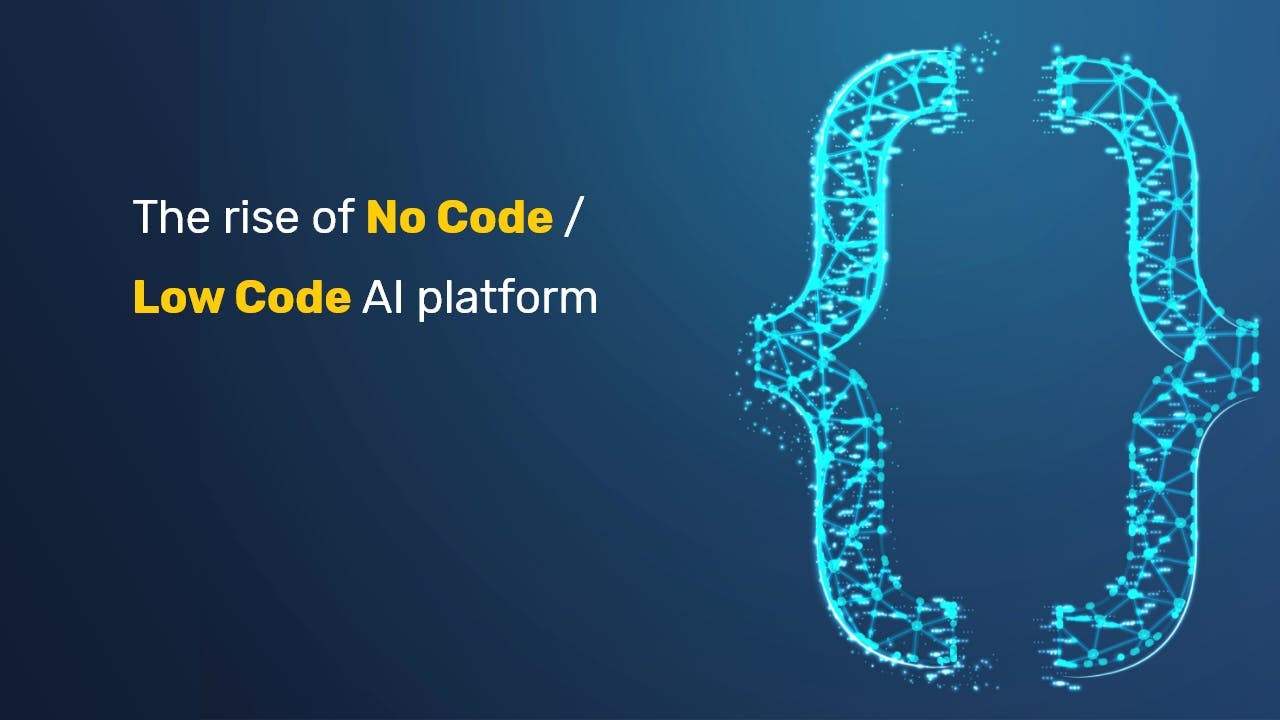 Outline of the article:
What is No Code?
What is Low Code?
Low-Code/No-Code promotes the adoption of AI projects
The difference between Low Code and No Code 
Benefits of No Code and Low Code platforms
Some examples of Low-Code/No-Code platforms
The future of Low-Code/No-Code 
The latest Low-Code/No-Code platform for AI: SmartPredict
What is No Code?
No-code is an approach to designing and using applications that don't require any coding or knowledge of programming languages. This type of software is part of the self-service movement that empowers business users to create, manipulate, and employ data-driven applications to do their work better.
What is Low Code?
Low-code is a software development approach that requires little to no coding to build applications and processes. A low-code development, machine learning platform uses visual interfaces with simple logic and drag-and-drop features instead of extensive coding languages. These intuitive tools allow users with no formal knowledge of coding or software development to create applications for many purposes like mobile apps and business apps.
Low-Code/No-Code promotes the adoption of AI projects
Low-code and no-code AI stages empower organizations to apply AI without broad information and preparation in the area. These instruments enable resident engineers, people without formal preparation in programming advancement who utilizes no-code and low-code stages - to make AI applications and decrease the weight on information researchers.
All the more definitively, they empower more modest organizations to taste AI and more prominent organizations to let loose their information researchers with the goal that they can chip away at more perplexing tasks.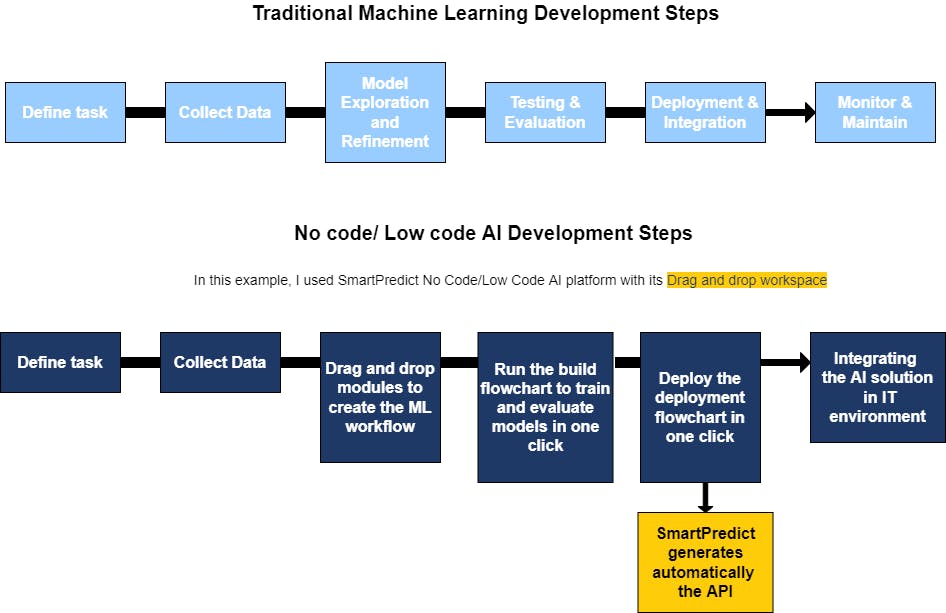 The difference between Low Code and No Code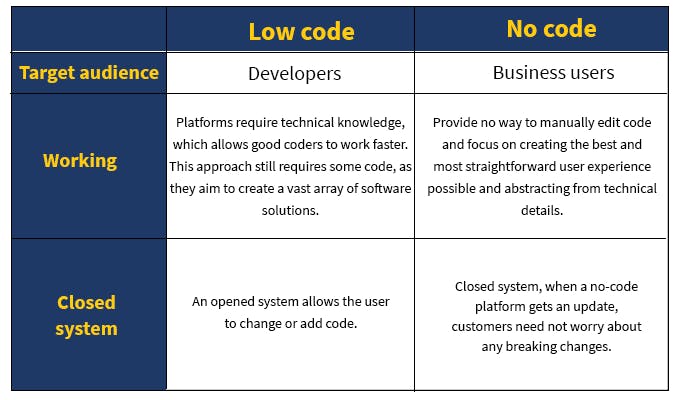 Benefits of Low-Code and No-Code platforms:
Low-Code:
Decreased costs:
With the capacity to assemble more applications significantly quicker, costs decline. However, that is not by any means the only driver. Low-code advancement decreases the requirement for additional designers, diminishing employing costs. Also, the right low-code stage can make everybody in the association, not simply IT, more practical.
Higher productivity:
Since low-code advancement permits more applications to inherent less time, what once required months currently requires just days, even minutes. With low-code improvement, time is presently not an obstruction to genuine development.
Better customer experience:
Low-code improvement impacts more than the IT association. The downstream impacts of sped up to incorporate a superior client experience. Associations can rapidly adjust to advertise changes or client needs with low-code advancement.
Faster transformation:
In the present computerized world, a change is required. Low-code improvement eliminates the intricacy of building extraordinary, current business applications. Furthermore, diminished intricacy implies smoother cruising.
With these low-code benefits, associations are better prepared to rapidly adjust and answer quick-changing business conditions.
No-Code:
Fast Delivery:
Contrasted with regular coding techniques, no-code arrangements lessen the improvement time since engineers don't have to hand-code each line of code.
Reduction in Total Cost of Ownership:
The no-code stage is a savvy substitute for conventional coding that incorporates computerized requests and lessens the endeavors of an association. Since no-code stages don't need a similar exertion required in customary coding, it permits organizations to streamline and mechanize their business processes by creating applications at the undertaking level.
No-code Platforms and Covid-19:
The worldwide pandemic constrained associations to reconsider their method and cycles to get by, incorporating reexamining their methodology in application advancement. Associations are worried about directing business with more tight financial plans and considering better approaches for getting things done. Likewise, no-code is favored due to its general effectiveness factors, bringing down the advancement time by 90%. The pandemic constrained representatives to work remotely which brought strategic difficulties that might be tackled with no-code arrangements.
Some examples of no-code/low-code: 
Some low-code stages offer no-code usefulness too, like Appian, Mendix, Microsoft PowerApps, OutSystems and Salesforce Lightning.
Different sellers that offer low-code improvement stages include Google AppSheet, Microsoft PowerApps, Robocoder Rintagi.
Different sellers that offer no-code improvement stages include Airtable, Shopify, AWS Honeycode.
The future of this vogue: No Code/ Low Code platform
The interest in computerized change has set off the ascent of applications created by organizations. There aren't an adequate number of qualified designers or stages to fulfill this need. Likewise, there are intense changes in how we see innovation. It has contributed hugely to the embracing of no-code advancement. We should look at the following reasons:
Cloud interruption has made innovation available to all:
Recall those days when innovation was uniquely world-class? Huge organizations could utilize it to create applications and keep up with the inheritance. It was extremely costly to purchase the equipment and construct applications. It was similarly troublesome and expensive to change them. Along these lines, the situation stayed inflexible. Independent ventures endured remarkably here because of the reliance and absence of assets.
Today, all you want is an Internet association on account of the cloud. Indeed, even a tiny startup can construct an application without stressing over expenses or foundation. Private companies are doing it quicker than huge ones, compelling them to be a piece of the change and utilize no-code stages for dexterity.
The tables have, without a doubt, turned!
IT reliance has diminished:
Conventional work models required the inclusion of IT at each progression. Designers concluded everything about the application and the remainder of the group acknowledged it. Cloud and no-code programming have flipped the model and decreased reliance on IT. Anybody can now transform into a maker (read resident designers).
IT frameworks and assets are likewise incredibly costly and most organizations can't bear the cost of them. Cloud-based No-code writing computer programs are the ideal arrangement, along these lines. Further, this reduces the weight on designers to zero in on the more convoluted, tasks drove work in the organization.
Using Internal Resources:
No-code, low-code stages allow clients to construct applications with a natural and simple-to-utilize plan interface. This empowers people to fabricate applications without broad programming or coding information.
An organization can dole out people who have direct insight into the issue and assemble applications and arrangements alone without recruiting someone from an external perspective. With the critical thinking capacity and imagination at work for building applications, organizations can guarantee the ideal usage of inward assets.
Gone are the days when you needed to sit tight for quite a while for the progressions to be done on the applications or burn through a significant piece of cash-making arrangements. Codeless application advancement will:
- Dispense with the need to employ costly programming engineers
- Decrease the product advancement cycle period
- Convey low-upkeep costs for programming
The Low-Code and No-Code platforms are used by Artificial Intelligence beginners, as it permits them to access AI technologies without the need to hire an expert in the domain. These platforms are also used by developers, as it allows them to develop AI applications.
The latest low-code/no-code platform for AI: SmartPredict
SmartPredict is the latest Artificial platform that can be qualified as a low-code/no-code platform, as it has ready-to-use AI use cases such as Credit Card Fraud Detection, Object Detection, Sales Forecasting, and many more. 
Thanks to these ready-to-use AI use cases, the platform allows anyone, expert or not, to complete an AI project, regardless of the user's field, with minimal time consumption, as the platform does not require coding to implement the various use cases.
The platform also stands out for its drag-and-drop workspace, which allows the expert to develop an AI project from scratch with low code, thanks to the pre-built modules. 
One of the distinguishing features of the SmartPredict no-code/low-code AI platform is the customizability of AI projects that allows users to have full control of their AI projects.
To know more about the platform, check out the following link: https://smartpredict.ai/.