Increasing E-commerce business with AI
Published on

Sep 28, 2021

by

Dhvani Shah
---
If some years ago e-commerce was a buzzword, now it has become the order of the day. Especially since Covid-19, everything has shifted from the physical platform to the online platform. People seem to shop literally everywhere during their working hours, during lunchtimes, in rush hour, and when there is nothing else to do but switch on their laptops and start surfing. But have we thought about how the world is changing, how Artificial Intelligence is changing e-commerce? Well at the end of this article, you will be able to see how AI is increasing the E-commerce business.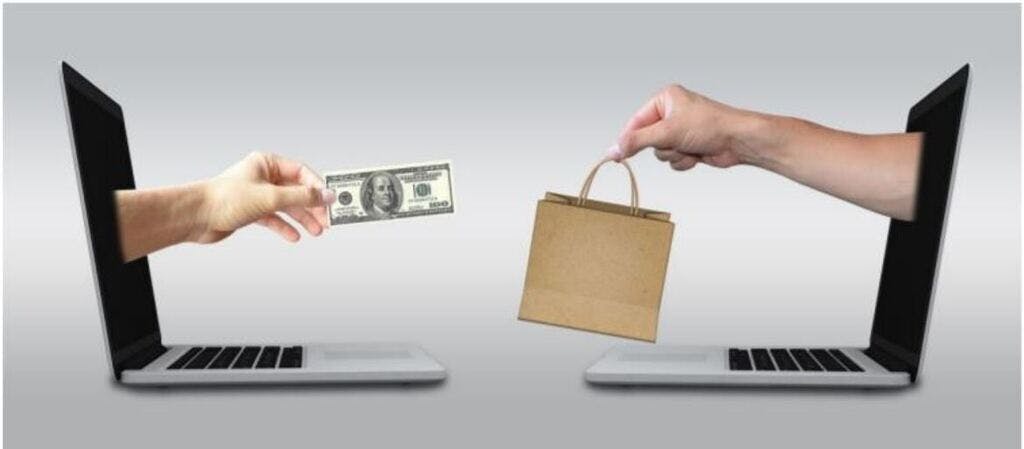 This article's outline:
●      Shopping in the Age of Artificial Intelligence
●      How AI is transforming E-commerce?
●      SmartPerdict: a way to boost your e-commerce
●      How to load the database in SmartPredict?
❖    Shopping in the Age of AI
To briefly showcase an example of shopping in the Age of Artificial Intelligence let's go through a situation since the 14th century Londoners have been coming to this one particular spot to shop and in 1881 when Sir Horace Jones built the Leadenhall Market he never would have guessed artificial intelligence would become the shopkeeper. But not everyone is convinced the rise of machines will lead to the downfall of the modern merchant.
We have a paradox of choice in the 21st century, e-commerce today is a remarkable experience, it has transformed traditional shopping beyond recognition. Traditional retail has become old fashion and e-commerce gives businesses the ability to reach more customers and give them a better and more unique client experience. There are so many people making their purchases online, and with that e-commerce is the fastest-growing retail market.
Since Covid-19, traditional shopping becomes difficult, or may even be scary, people are increasingly inclined to opt for shopping online. Statistics show that the number of digital buyers as increased from 1.32 billion to 2.14 billion between 2014-2021.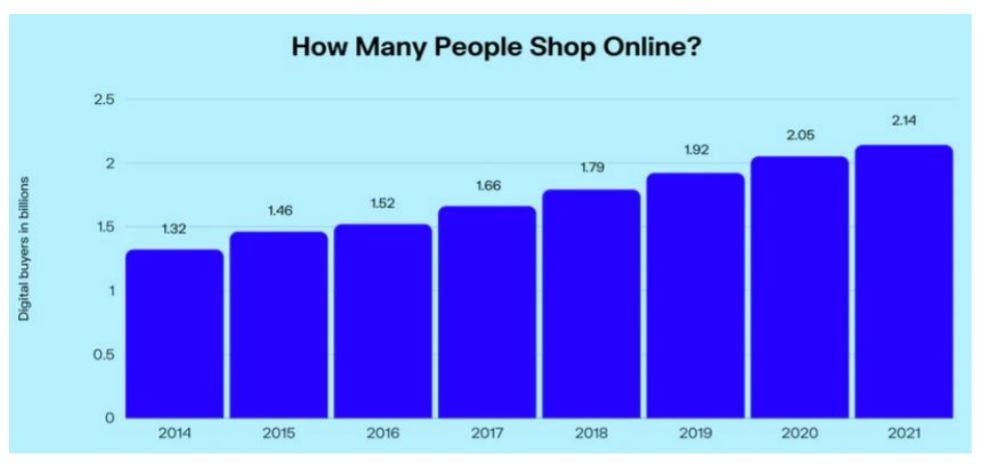 ❖    How AI is transforming E-commerce?
The user of artificial intelligence in online shopping is transforming the E-commerce industry by predicting shopping patterns based on the products that shoppers buy and when they buy them. The use of artificial intelligence will stretch two different facades. On one hand, we have artificial intelligence offering business efficiency improvements when it comes to different areas such as image categorization, fraud detection, price optimization, and customer segmentation. On the other hand, we have a huge potential for enhancing the user experience in different e-commerce platforms by making algorithm-powered product recommendations and offering content personalization and virtual assistants.
❖    SmartPredict: a way to boost your e-commerce
Before understanding how SmartPredict can be a way to boost your e-commerce, what you need to know is what SmartPredict is. SmartPredict is basically an online Data Science and Machine Learning platform, it can be defined as the easiest way to bring Artificial Intelligence to our lives. This platform allows citizens and experts, data scientists, data engineers, machine learning specialists, and developers to carry out their Artificial Intelligence projects with one single click. The platform allows us to solve and carry out all kinds of classification and regression Artificial Intelligence projects. SmartPredict is a customer-centered company, we have a very strong and authentic service, our platform is easy to use and anyone can manipulate. We are here to help you to solve real-world problems efficiently and easily. Now the only question popping your mind must be how can this platform boot your e-commerce? Well the answer is pretty simple, all you have to do is to upload the database of your e-commerce on the platform then analyze that particular data, basically, after we uploaded the data, the platform will generate the summary of our data. This platform also permits us to use Autoflow for Sales and Demand Forecasting as well as Product Recommendations with a flowchart.
❖    How to load the database in SmartPredict?
Step 1: Sign in to the platform https://smartpredict.ai/.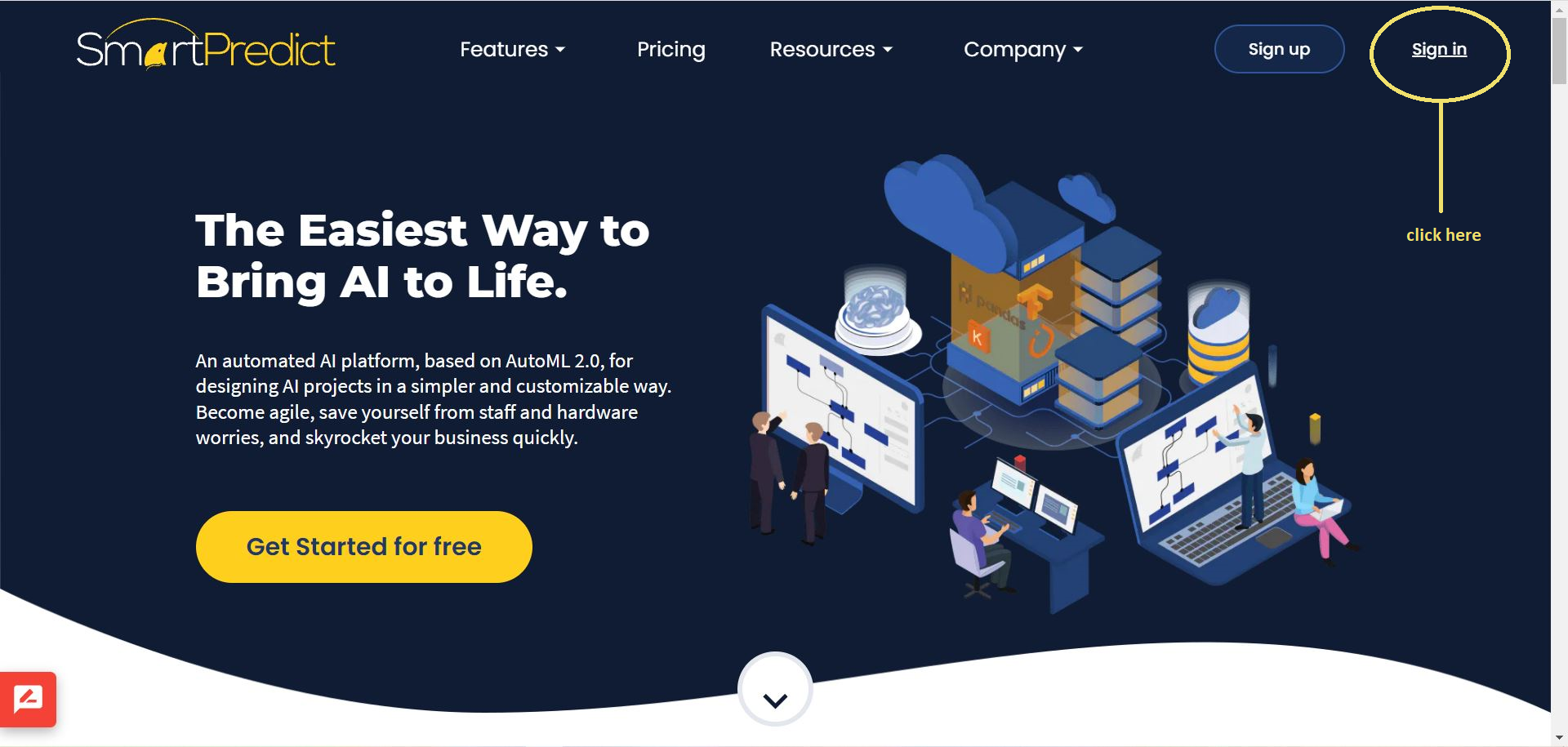 Step 2: After signing in, we come to the homepage of the platform, then click on the resources icon.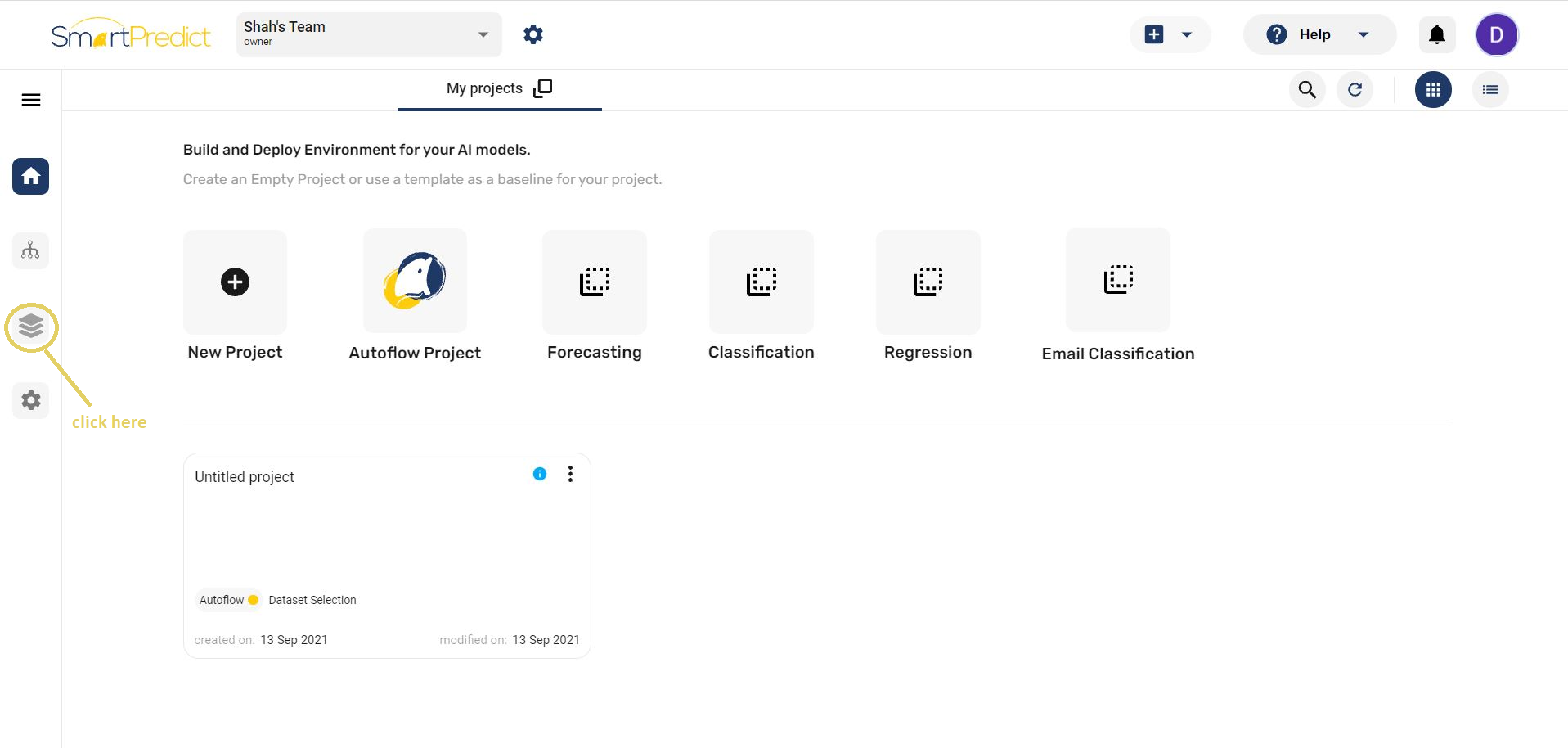 Step 3: After clicking on the Resources, we have to select a new dataset.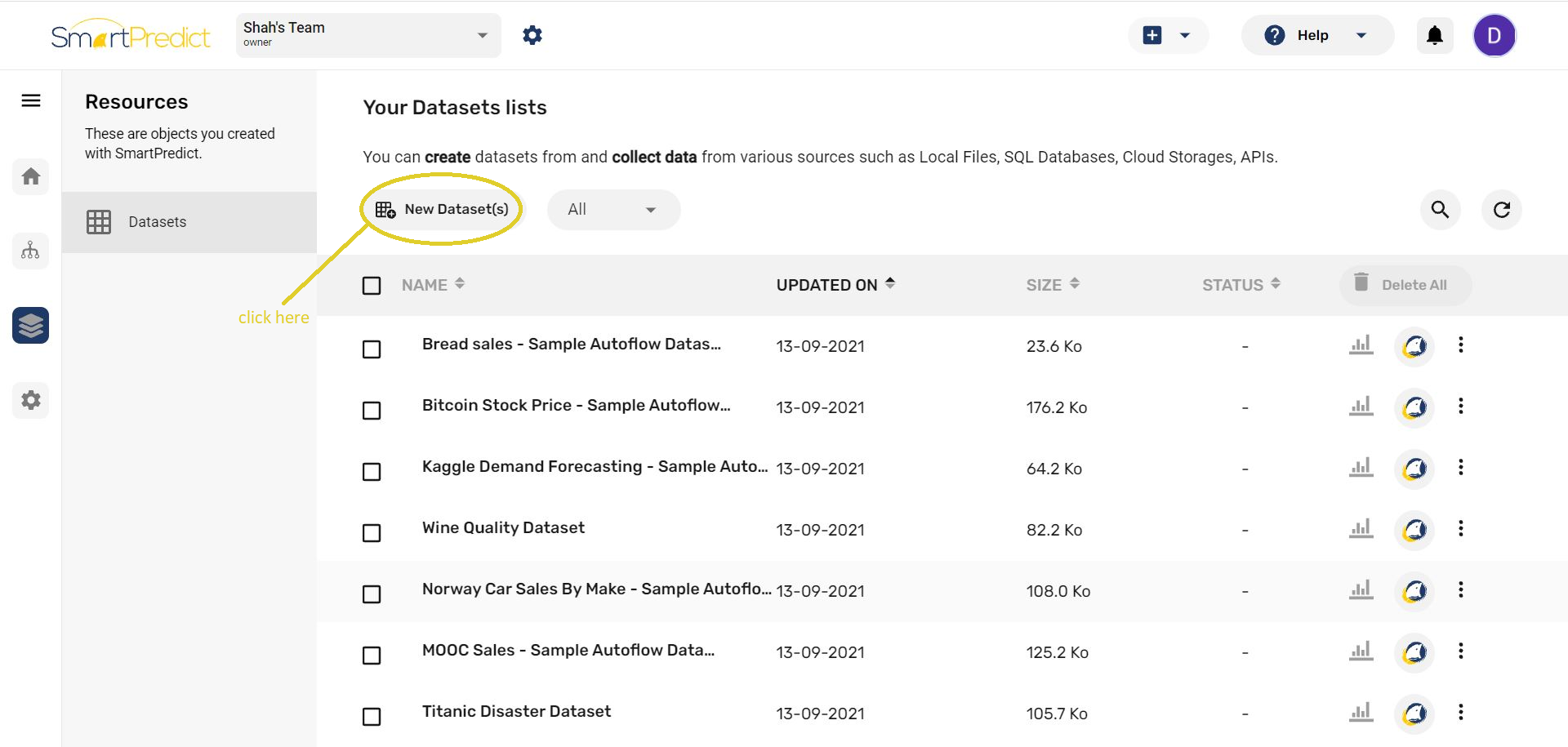 Step 4: Then afterward, choose the source type of your data.
Step 5: After choosing the source type, you have to enter the details of your e-commerce.