Presentation SmartPredict Autoflow
Published on

May 04, 2021

by

Haingomanitra H. F.
---
As stated in its tagline "The Easiest Way to Bring AI to Life", the SmartPredict AI platform is constantly implementing new features that fulfill the principles it has been founded on since its inception.
The one that will promote the release of its first version is based on 'AutoML 2.0', with which, users regardless of their level of AI knowledge can take advantage of this cutting-edge technology, in no time to improve their business. 
Moreover, the configurability of the generated flowcharts (Machine learning workflow) will make experts more efficient in their AI project. 
To learn more, this article will introduce you to the SmartPredict Autoflow. 

We will look at the following points :
What is SmartPredict Autoflow?
What technology does it rely on?
SmartPredict's Autoflow features
The benefits of its use
What kind of AI project can we deal with SmartPredict Autoflow?  
Give it a try!!
Enjoy reading!!
What is SmartPredict Autoflow?
Autoflow is a new feature in the SmartPredict AI platform based on AutoML 2.0 ( Automated Machine Learning ), with which we can apply AI to real-life problems in no time, with minimum effort, without programming, and without being an expert.
The citizen data scientist is the most targeted for its use so that they can take advantage of AI technology. They will get accurate predictions, such as sales forecasts, to improve their business by just submitting their historical datasets.
In addition, experts such as data scientists, software engineers can well apply their skills in their AI projects, thanks to the configurability and customization of the generated flowchart.
What technology does it rely on? 
The SmartPredict Autoflow is mainly based on the exciting new trend in the ML industry:  the  AutoML 2.0, with the expertise of its experienced data scientists team.
From a technical perspective, AutoML is end-to-end automation of the ML process that covers the entire pipeline: from the dataset to the deployable ML model. In other words, it promotes the automation of the realization of an AI project.  
This technique is the basis for the implementation of SmartPredict Autoflow, and the result is the automation of an AI project capable of solving real-life problems. By just submitting your data, you will have a ready-to-use AI model able to predict for example your next sales. 
The following paragraph explains more about its features and how it works.
SmartPredict Autoflow's features 
When you submit your data to SmartPredict Autoflow, the following processes are performed to provide you with an accurate prediction :
-  Auto preprocessing: It is most probable that your dataset is not suitable to train AI models. Thus, among the hundred of preprocessing defined in the SmartPredict platform, Autoflow selects the appropriate preprocessing for your datasets. 
- Auto feature engineering: This step involves generating new features in your dataset to improve the AI algorithm's performance.
- Auto model selection and hyperparameter optimization: One of data scientist tedious task is to find the best AI models for their data. With Autoflow, several models will be trained over your dataset and will be fine-tuned. Of course, SmartPredict displays some of the best trained AI models with the resulting metrics. So you will know which model will be the better one for your dataset.
- Build customizable flowcharts: Once you have selected an AI model, Autoflow generates 2 customizable flowcharts a.k.a the ML workflow, where each process will be presented as a configurable module. You can modify the whole pipeline and even create and add your own module: 
the flowchart in the Build space represents the workflow run to train and evaluate the AI model.
while the flowchart in the Deploy space represents the workflow that will be fully deployed as a web service to put the trained model into production. Since it is customizable you can add posts and preprocess data even after deployment.
- Get the prediction: Once you have deployed in one click the whole deployment flowchart, you can directly get predictions from the deployed model. Of course, the predictions can also be implemented directly in other software such as Excel and others.
Processes behind SmartPredict Autoflow: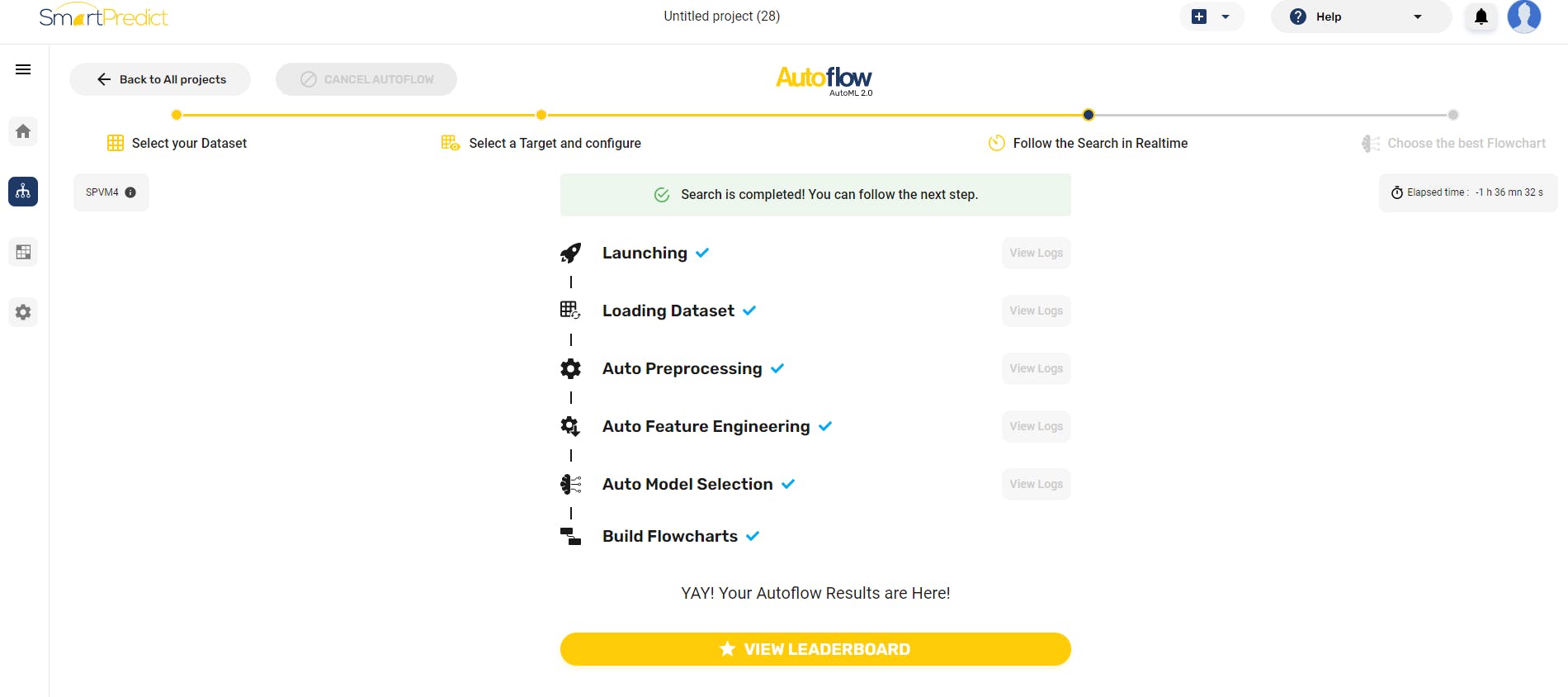 Example of the list of trained and fine-tuned ML/DL models provided by the Autoflow: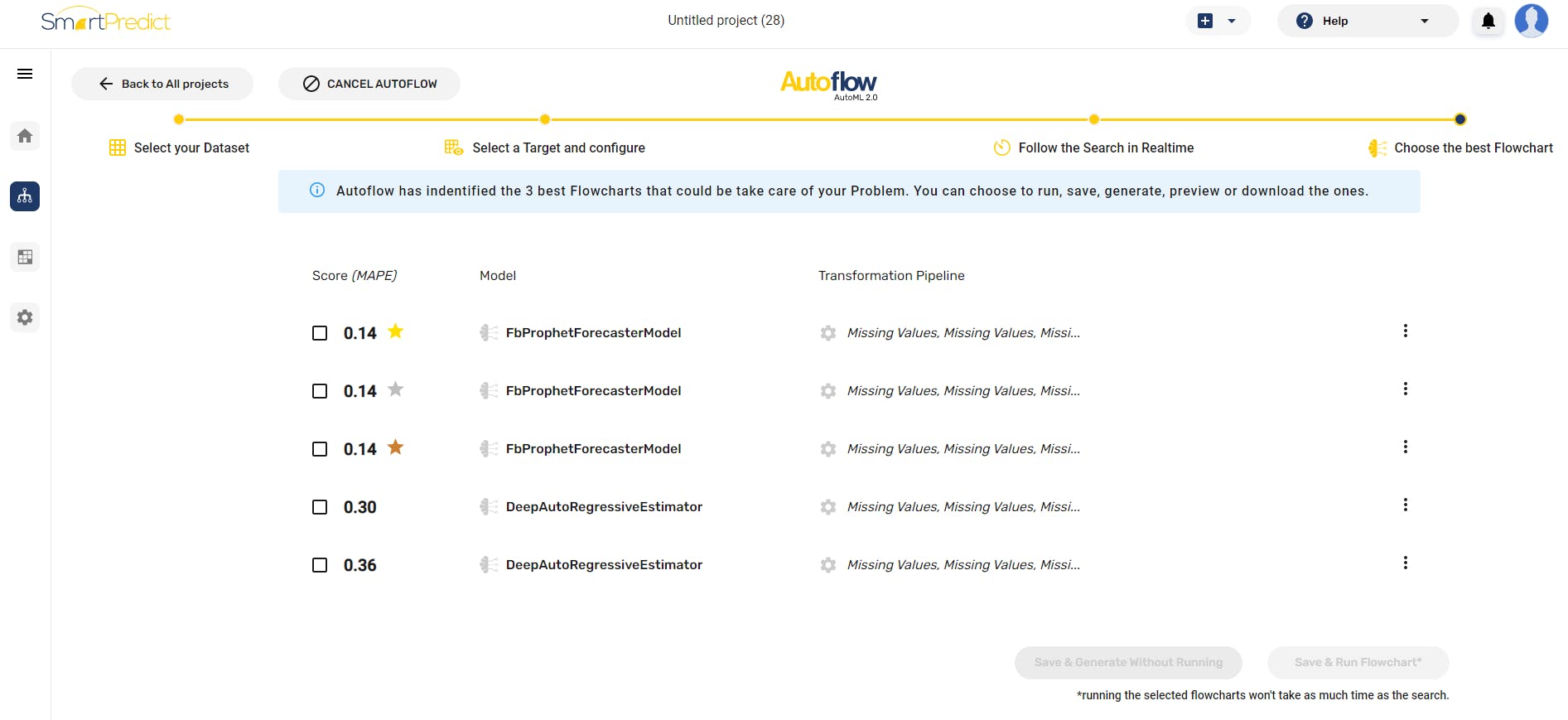 Example of the generated customizable flowchart in the Build space: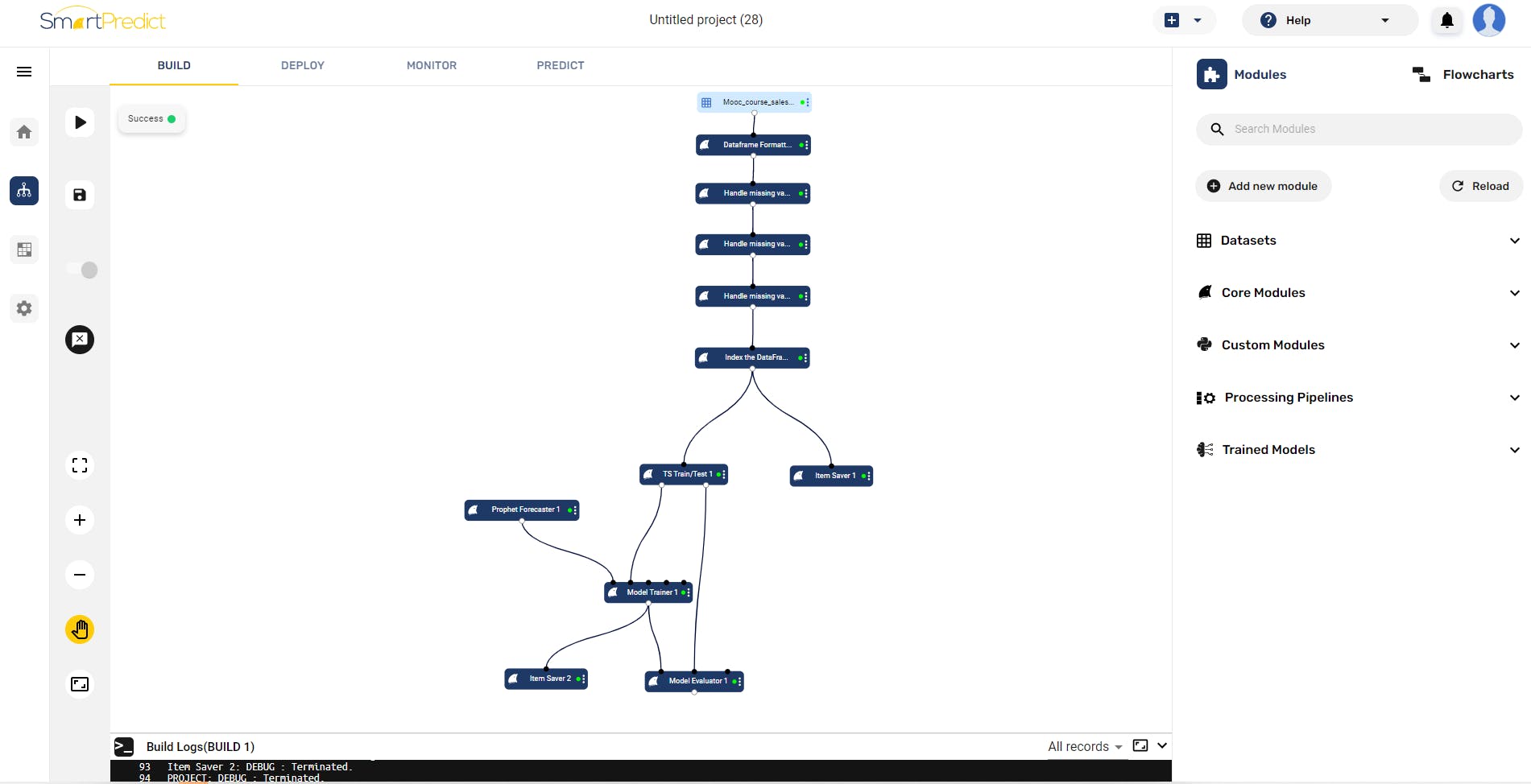 The benefits of its use 
See the benefits of using Autoflow depending on your function. 
For citizen data scientists: For those who have data and want to implement Machine learning technology without having the required knowledge, Autoflow is the solution. By just submitting the data, Autoflow will perform the whole project, ready to use, ready to provide predictions. All this in a few minutes and with the least effort (without coding).
For expert data scientists:  The configurability of the generated flowchart is the main feature that will interest the expert, to such an extent that they will be able to take full control of their project. Besides the most tedious tasks, such as data pre-processing, will be automatically performed by AutoML so that experts will be able to focus more on other core processes.
For software engineers: The configurability of the deployment flowchart can attract especially software engineers because it is possible to add for example post and preprocess data even after deployment.
Apart from the automation of data scientist tasks, the deployment of the model is done in one click. It is also easy to implement the result predictions in other IT environments, by calling the API generated in Monitor space.
What kind of AI project can we deal with SmartPredict Autoflow? 
In this time of speaking, SmartPredict Autoflow can perform an end-to-end AI project ready to forecast from your data where time is a constituent of everything observable. Technically speaking, a time series forecasting project.
So you can leverage AI technology that can forecast your accurate future sales or stock market for example.
It's not just that, Autoflow will keep growing further, and it will soon be able to perform an end-to-end AI classification project while preserving the values mentioned above.
Give it a try!
To get future sales forecasts for instance, or to make a time series forecasting project with SmartPredict Autoflow, this video tutorial will help you as a guide.
Go to the SmartPredict AI platform and perform your end-to-end AI project in the easiest way with Autoflow.