SmartPredict: the exclusive No-code Low-code AI platform for everyone
Published on

Jul 05, 2022

by

Haingomanitra H. F.
---
Artificial Intelligence will be a must-have technology for companies to stay competitive these days. It is a technology that makes them efficient and affordable by automating workflows and business processes, most notably, by gaining a better understanding of data that can provide accurate predictions. A survey conducted by PwC shows that 72 percent of business leaders believe that using AI can enable humans to concentrate on meaningful work.
However, this technology is still reserved for AI experts and those with technical skills, and even the implementation of AI projects is still a challenge for companies.
That's why the SmartPredict AI platform was born: to democratize AI for everyone so businesses can leverage this cutting-edge-of-technology and get a tangible Return On Investment—wondering what's in it for you? Let's dive in.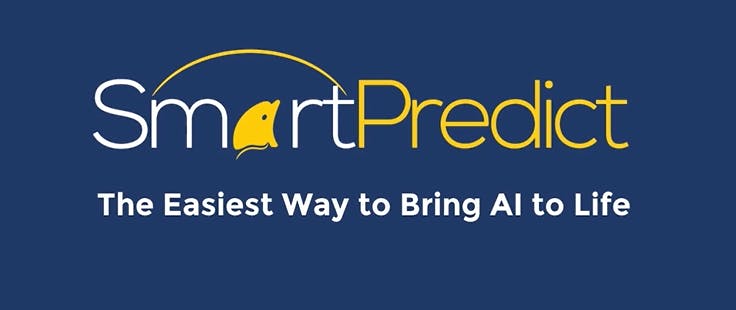 A short presentation: What is the SmartPredict AI platform?
SmartPredict is a No-code and Low-code AI platform that allows anyone to build and customize an end-to-end AI project in a few minutes, thanks to its drag-and-drop workspace, AI automation process, or ready-to-use AI use cases. 
SmartPredict is an AI platform for rapid AI project prototyping, from raw data to model deployment, that is easy to integrate into any existing IT system.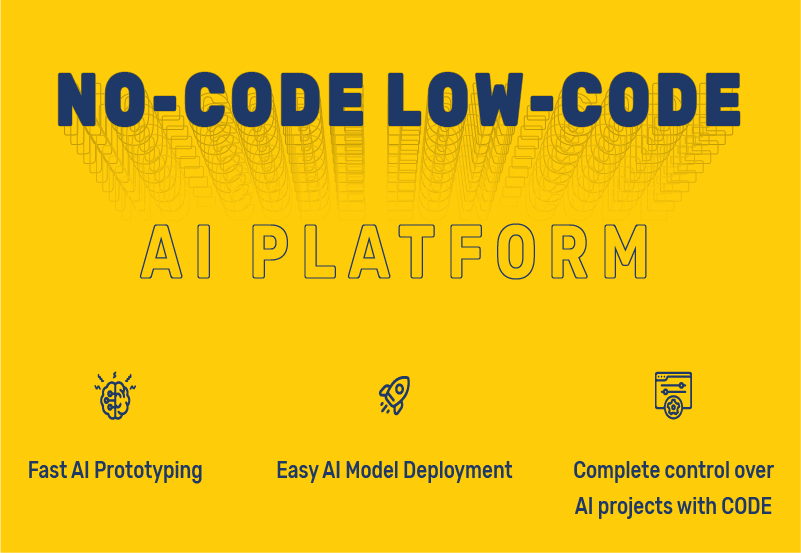 " How to realize an AI project with SmartPredict?
Running SmartPredict's ready-to-use AI use case
Running SmartPredict Autoflow
Designing AI projects in drag-and-drop workspaces "
What is SmartPredict's ready-to-use AI use cases?
SmartPredict's out-of-the-box AI use cases are pre-built AI projects by SmartPredict's data scientist team that can be run with users' datasets or with an existing one in the platform. 
You can run them with a few clicks and with a simple configuration and customize the resulting ML workflow.
Here is the list of SmartPredict ready-to-use AI use cases..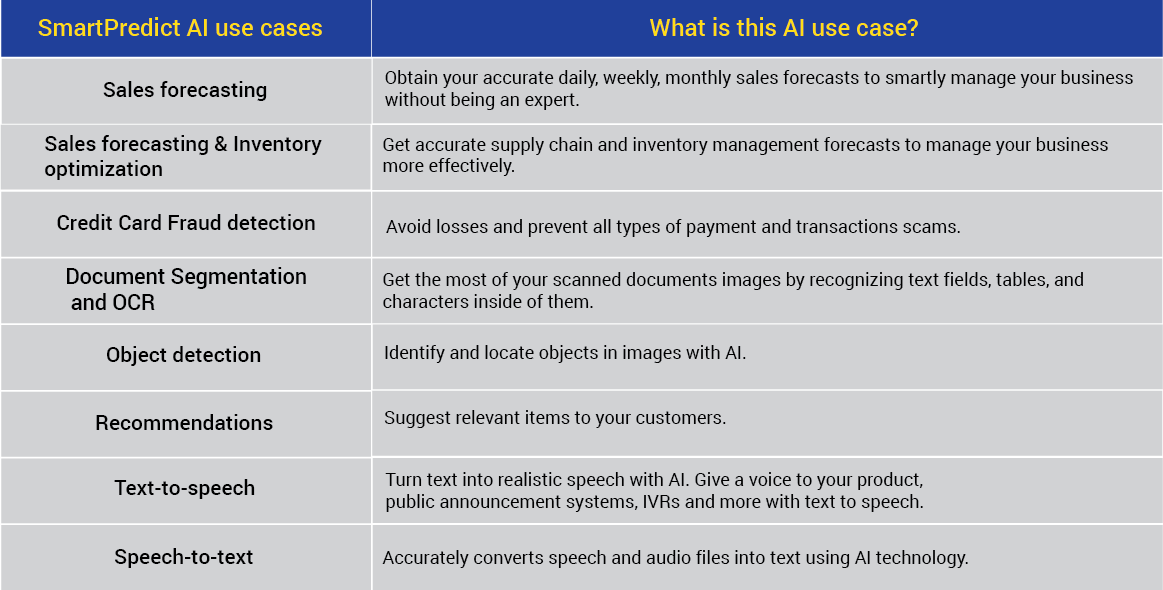 You only click on the card representing the AI use cases to run a SmartPredict AI use case.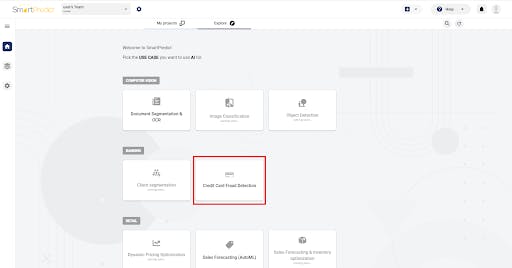 What is SmartPredict Autoflow?
SmartPredict Autoflow is its AutoML solution that automatically processes all data science work from ML model training until the deployment. You present your dataset to it and run it in a few clicks with straightforward configurations and you can customize the resulting processes.
The image below shows you all automation AI processes when running Autoflow.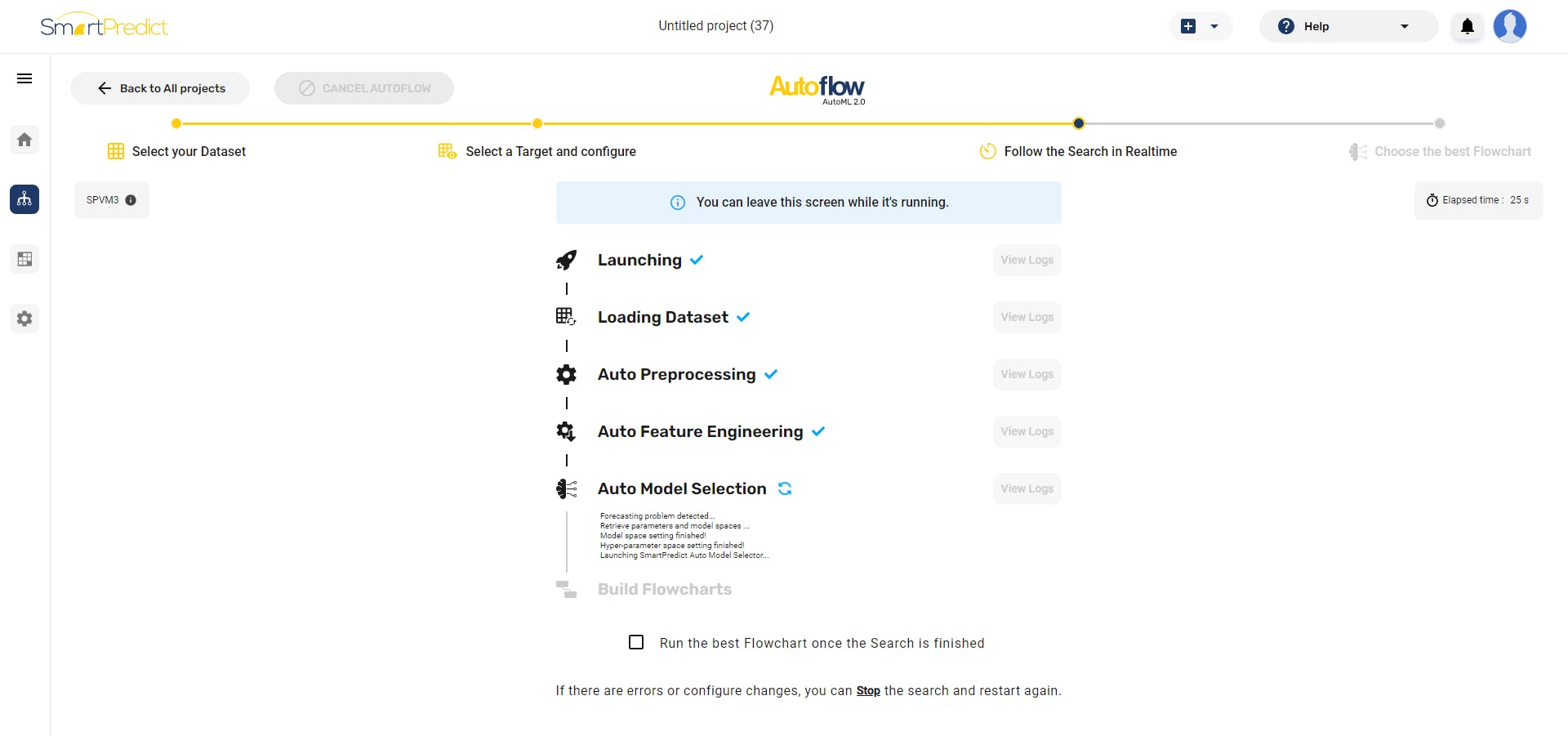 What is the completion of an AI project with a drag-and-drop workspace?
With SmartPredict's drag-and-drop workspace, you can design your ML workflow from scratch. You can Build, train and deploy a Machine Learning model by dragging and dropping pre-built modules or creating your modules with code. 
SmartPredict also has its Notebook, which is connected to the drag and drop workspace.
This is an example of a building flowchart to train and evaluate the XGBoost Regressor model for the Bank Marketing Prediction AI project.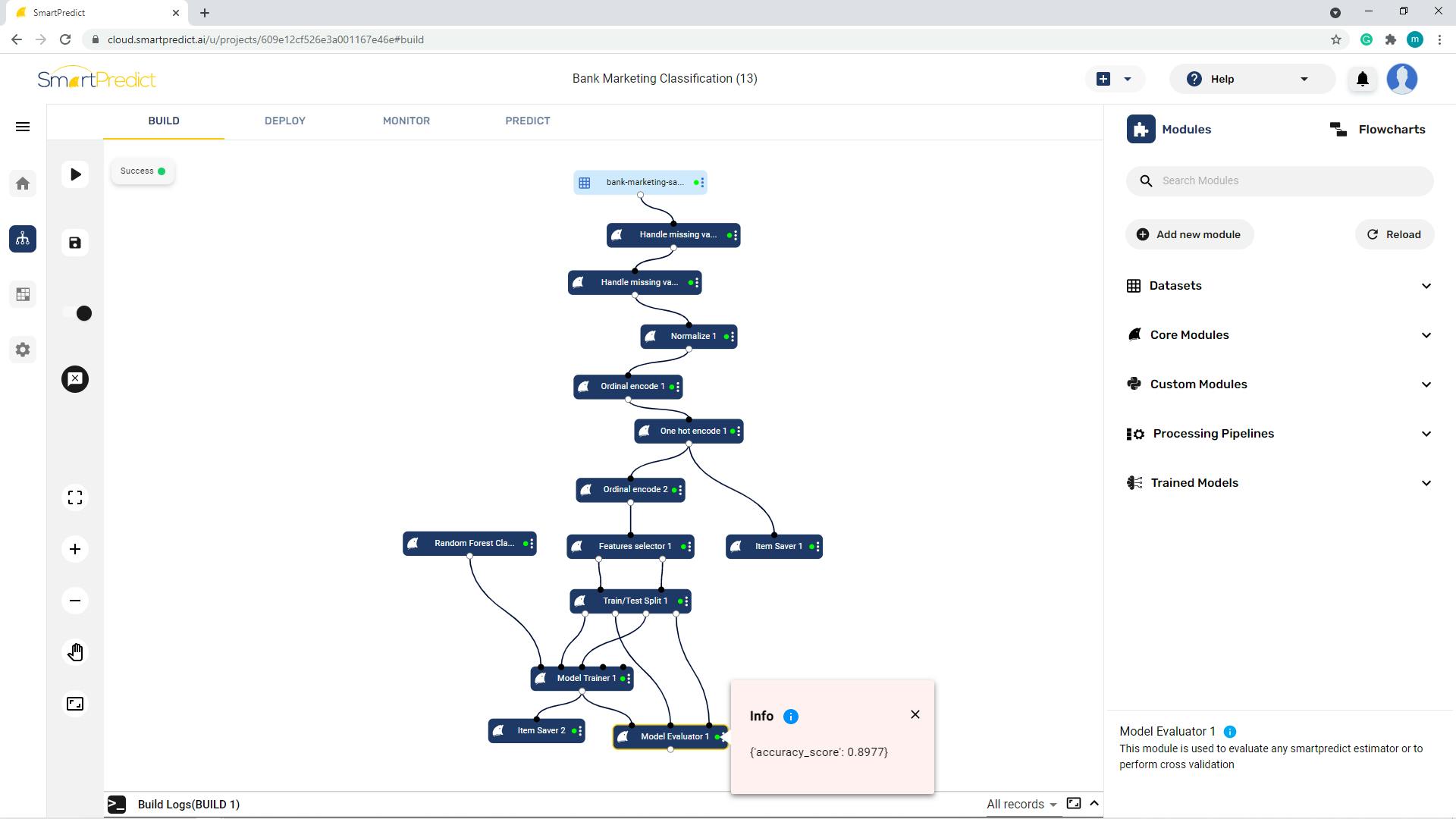 Speed up your data science work with SmartPredict while completely controlling it.
SmartPredict is an excellent tool for you as a data scientist in your daily work to save up to 80% on the realization of AI projects. Carrying out a project with SmartPredict is much easier while keeping complete control over it through coding. 
Well, SmartPredict has its drag-and-drop workspace that you can use to design, build, train, and quickly deploy your AI models seamlessly: 
You can use +100 AI prebuilt modules based on open-source data science technology like scikit-learn, TensorFlow, XGBoost, etc.
You can also create your module with Python code with an advanced integrated Code Editor.
Model deployment is more manageable and straightforward by just building a deployment flowchart with a whole pipeline deployed as a Web Service in one click. And your API is auto-generated in minutes. Of course, you can update anytime with low code and in a few clicks.
"ML model building and deployment realized in a breeze in a drag and drop workspace with configurable modules:
→ Exhaustive module to train, evaluate and deploy the AI model, 
→ Ability to Customize your module with Python CODE
→ Integrated Notebook"
SmartPredict has thought of everything by giving you the option to code in its Notebook, so you'll be comfortable and in total control of your project. It's also an excellent tool for team collaboration.
Leveraging the AI automation process with SmartPredict Autoflow and ready-to-use AI use cases.
Whatever your domain of expertise, a business analyst, a developer, or a business leader, well, whatever you are, YES YOU, you can realize your AI project by yourself with SmartPredict.
Leverage your data in your businesses and present it to SmartPredict Autoflow and SmartPredict Ready-to-use AI use cases to predict sales, detect credit card fraud transactions, and more. All of this is done with a few clicks, and you can seamlessly implement your AI solution in any existing IT environment.
"Non-data scientists can complete an end-to-end AI project in a few clicks with SmartPredict Autoflow and with Ready-to-use AI use cases."
Mastering all the challenges of the AI project process with SmartPredict's ingenious features.
No need to install IT infrastructures
One of AI's challenges is setting up a robust environment and flexible infrastructure that is fully compatible with AI-based solutions or applications. At SmartPredict, all computational processes are handled in cloud-based resources, and you only have to choose when you run all AI processes with a few clicks. 
The image below shows you the tab with which you choose a resource to train and deploy your AI model.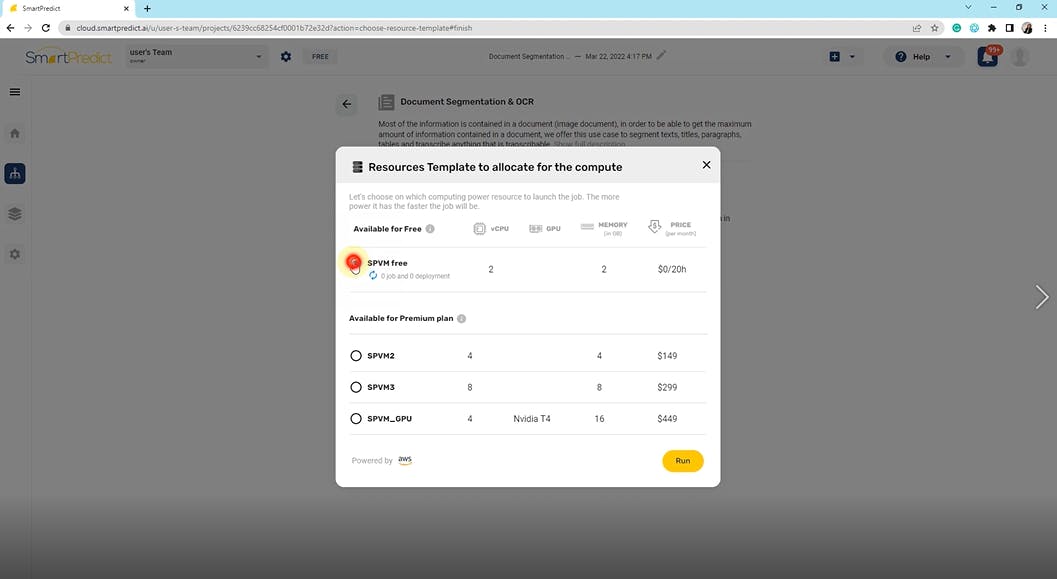 Easy deployment and AI Integration into Existing Systems
Deploying AI trained model is easy and seamless with the drag and drop deploy space where users only drag and drop pre-built or their created modules. The entire pipeline is fully deployed as a web service, and an API is automatically generated within minutes. Once deployed, you can test and update the whole pipeline within the platform.
And all this on a single platform.
The image below shows an example of a deployment flowchart that is fully deployed as a web service in one click and can be updated at any time.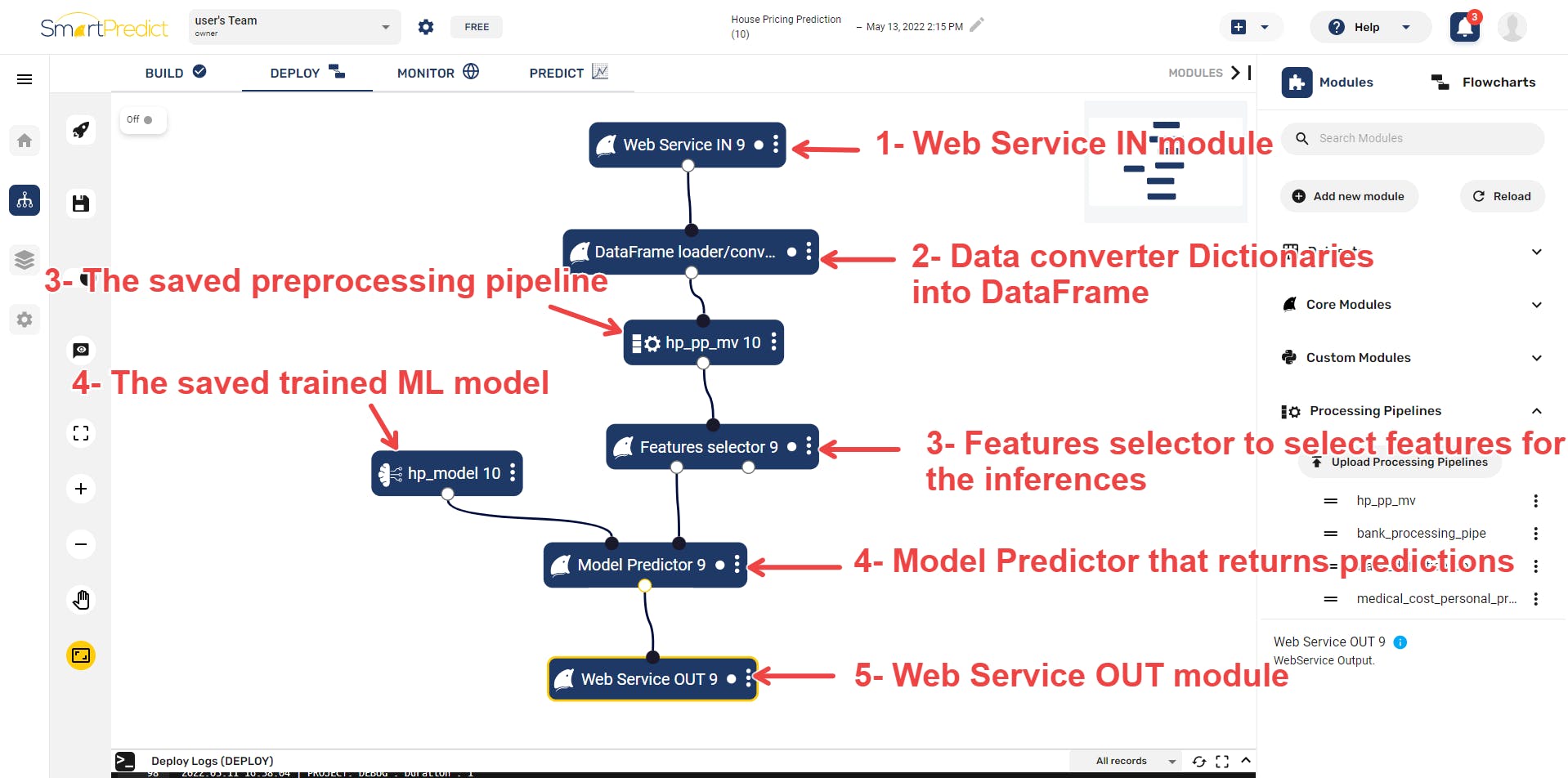 No worry about security and data storage
Your data is precious. With SmartPredict, we use advanced technologies like BigQuerry, Airbyte, and data encryption to securely integrate your data from your data sources into SmartPredict and use it securely.
Powerful AI models
With SmartPredict, you can experiment with advanced AI models in all AI use cases and with Autoflow which can be trained with your dataset.
You can evaluate your trained AI models with their accuracy and the result of its training can be interpreted with the Model Interpreter module as shown in the figures below.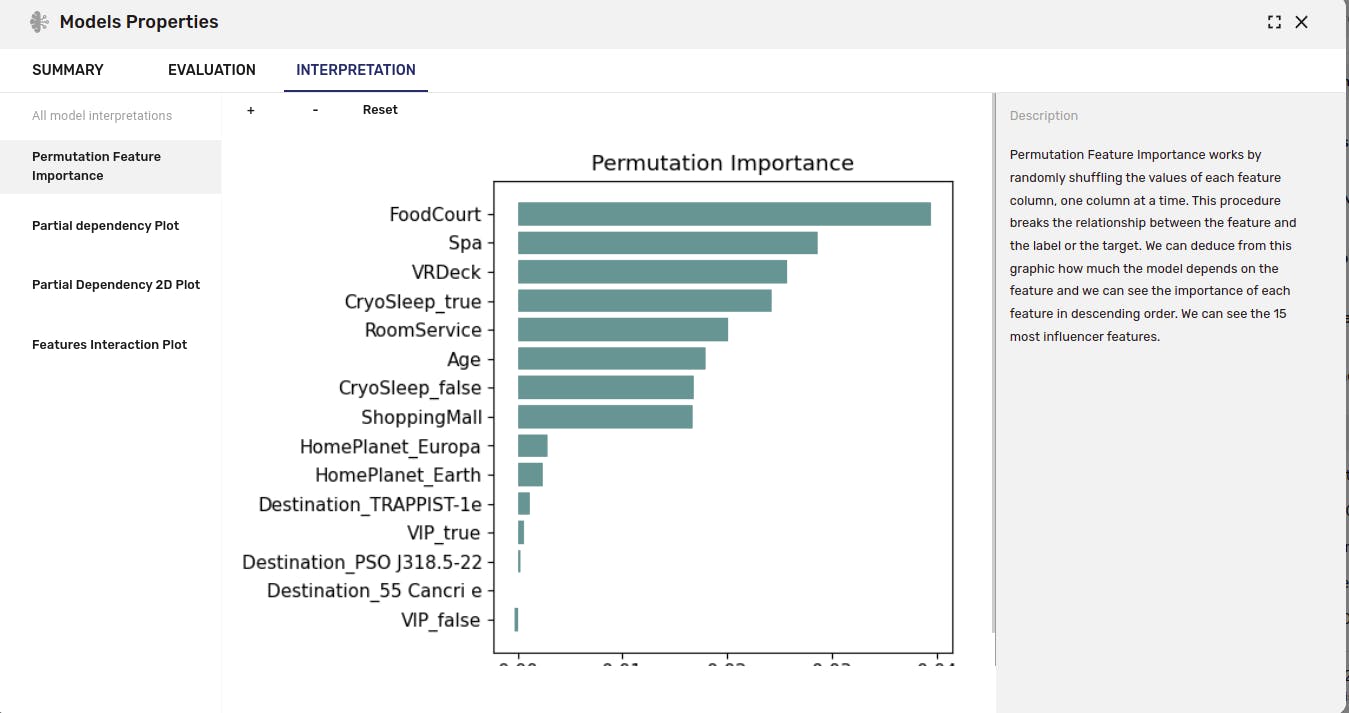 Conclusion
In this article, I've outlined all the benefits you can get by using the SmartPredict AI platform for your next AI project. To learn more about the platform, check the tutorials and videos and complete your end-to-end AI projects with the platform for free.