A Comprehensive Palette of Data Science and Machine Learning Modules.
Based on the Best Python libraries for AI and advanced ML frameworks, consider modules as flowchart building elements to create your Data Science and Machine Learning pipelines.
Drag them into the "Build" and "Deploy" space to get the right configuration for your AI projects, whether it's classification, regression, or forecasting.
Profit from the drag and droppable SmartPredict modules for your AI project
SmartPredict modules are powerful, state-of-the-art Machine Learning and Data science algorithms embedded as basic elements of your ML workflow for training, evaluating and deploying ML models. Use them to design your AI projects in a logical and intuitive way. Creating a Data Science pipeline is child's play!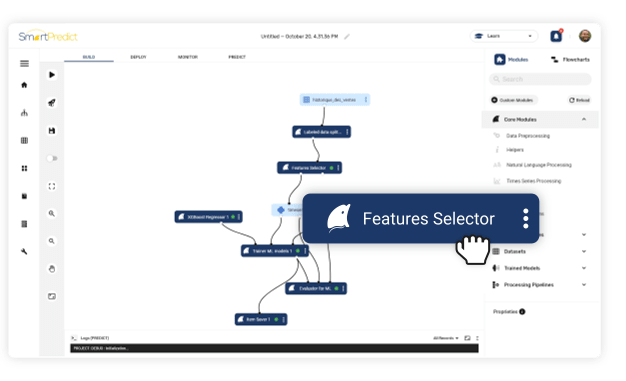 In Manualflow, Data Science pipelines are sequences of operations ranging from data preprocessing , data modeling, feature engineering, hyperparameter tuning, and model training, to model deployment. All are nested within a wide range of task-specific modules.
And if that's not enough, for more flexibility and openness, a coding environment is provided for code enthusiasts to extend the capacity of projects by creating your own modules with Custom Modules. In summary, what can you use for your ML workflow?
Configurable, and interactive modules for AI projects
Comprehensive and self-developed modules for your ML workflow
A vast data processing as modules for ML projects
State-of-the-art ML models modules based on data science libraries
Your imported dataset as a module
Trained models and processing pipelines saved and available as modules
Downloadable and imported trained models as modules
Samples and templates ML workflow
Quickly implement AI project with drag and drop modules
Have fun assembling your Data Science pipeline flowchart! Implementing AI has never been this easy! And if needed, pursue setup even beyond deployment.
Define modules according to the requirements of your projects. Use classification, regression, and prediction models, available as presets to get you inspired. Refine the hyperparameters from the module configuration.
Boost productivity with advanced flowchart features
Create, save, import and export your flowcharts! Reuse them for other collaborative projects. Create your own function or class-based module thanks to SmartPredict's high flexibility and openness, and achieve more in less time!
Discover Other SmartPredict Ground-Breaking Features.
Through its well-designed features, SmartPredict strives to offer you the best and brightest to meet your challenges and your incredible creativity!
This email has already subscribed.