Data Science Models, Pipeline and Serverless Function Deployment
What if all this could be done in minutes instead of days, weeks or even months? Thanks to this unique feature of SmartPredict, you are able to perform real-time and scalable deployment. Indeed, it makes your daily life evolve like a professional.
Go for dragging and dropping modules for easy, and fast ML deployment steps!
Deploying your ML model with SmartPredict eliminates the tedious AI deployment project workflow. You only drag and drop modules to build a pipeline deployment that is fully deployed as a Web Service in one click. Then SmartPredict generates your API in minutes to power up your app with your AI project.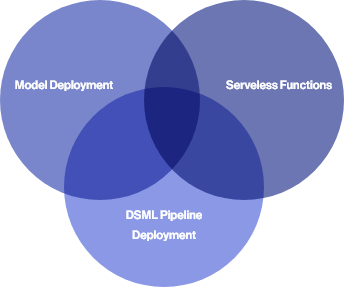 Discover SmartPredict's clever ML Deployment Solutions.
For each different feature, why spend more on average applications, when you can have it all on a powerful, state-of-the-art all-in-one platform?
1

Deploy AI Trained Models like a walk in the park

Thanks to the flowchart approach, machine learning deployment has never been so easy because it no longer requires any coding skills while it make transparent to the ML model deployment architecture. Try it, you'll like it!
2

Deploy a whole Data Science pipeline in a breeze

Pipelines will be deployed as web services that you can share through an active URL accessible via a secure token. Deploy it in one click!
3

Experiment with Infinite Configuration at a lower cost

Since everything happens in the Cloud, on-premise resources are saved and you can configure at will with very flexible pipeline diagrams and it is not vendor-locked. Save energy, and gain in optimization!
How to deploy ML model with SmartPredict?
Dragging dropping modules to build your pipeline deployment
Deploying your whole pipeline in one click as a Web Service
Choosing a mode: server or serverless
SmartPredict generates your API instantly
Testing and making inferences in PREDICT SPACE
Editing and updating your pipeline at any time if needed
Powering up your application with the generated API.
4

Deploy Serverless Functions with your eyes shut

Build a serverless application with the fancy drag-and-drop deployment space: you can develop any function with your deployment pipeline using Custom Modules. And your entire built pipeline is fully deployed as a web service on server or serverless mode in one click.
Benefit for an Effective ML deployment best practice
To help you stay ahead of your competitors, ease of use is a key asset. Here, the deployment feature will give you diverse advantages.
Deploy in minutes instead of months!
Pipeline deployment is one of the biggest struggles companies face with data science projects, as it can take months. You need to both hire expensive staff, obtain the right logistics, if any, and invest in extensive training to hone the required skills. We think you will… That's exactly why we've designed SmartPredict's deployment features: to save you all these hassles by making things happen quickly.
Gain in overall performance!
Get more out of life by focusing on value-added tasks! With a comprehensive set of features, the all-in-one platform will help you efficiently manage deployment and deliver more projects in an optimized timeframe. What else do we need?
Cut cost and save resources!
Studies show that the deployment phase is the one that consumes the most energy resources, in addition to being extremely long and therefore costly. SmartPredict meets the challenge of accelerating the task by reducing the design to a simple flowchart to turn the experience into a piece of cake. Try it, you'll adopt it!
Discover Other SmartPredict Ground-Breaking Features.
Through its well-designed features, SmartPredict strives to offer you the best and brightest to meet your challenges and your incredible creativity!
This email has already subscribed.