Detect and stop fraud
with out-of-the-box
AI-driven solutions.
An AI-based Credit Card Fraud Detection, ready to use to prevent payment and transaction frauds.
Contact us
Why AI-driven Credit Card Fraud Detection?
Statistics on fraud caused by credit card transactions and payments are more and more rising, causing losses in small, medium, and large businesses. To tackle this problem, AI-based fraud detection systems are proving to be powerful — able to perform accurate data analysis in milliseconds and identify complex patterns in the data. Machines are more efficient than the most skilled fraud analysts and make fewer errors. In SmartPredict, we have implemented a ready-to-use AI uses case trained with companies' credit card fraud detection datasets. It uses supervised learning, unsupervised learning, or anomaly detection that everyone can run and implement with a few clicks on their IT platforms.
Why SmartPredict Credit Card Fraud Detection AI use case?
An AI-driven high-performance system that reduces +70% of human transaction review time.
Automatic fraud detection
Real-time streaming protection
Full protection from scam
Our Credit Card Fraud Detection ready-to-use AI use case makes it easy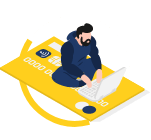 Be efficient with less effort
All your work in one place,
made easy with just a few clicks.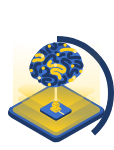 Do more in less time
Save time with the ready to use AI use case - quick to implement for real production-ready protection in just a few minutes.

Growth your business
Get AI-based solutions that guarantee protection against all fraudulent transactions and payments to prevent losses.
Ideal solution for everyone
Easy implementation in the online website and IT environment and prediction ready for individuals.
Internal/External Auditors
Ready to use in 3 steps
1. Select or Import Data
Select a dataset in the platform, or import another one to train the AI model.
2. Launch the ML workflow
The ML workflow to train and deploy the AI models is already generated as two 100 % customizable flowcharts. Just run them or make your modification if needed and all is done.
3. Get Prediction
The prediction can be directly viewed in the Predict space. Alternatively, the result can be implemented in other IT environments with the provided API.
Our Credit Card Fraud Detection AI use case works for them, why not for you?
---
All the machine learning work in fraud detection is in one place, which you can run with a few clicks. The 100% customizable ML workflow is a great solution. It's flexible and makes me efficient in my work.
---
It's amazing that I can implement my AI system on my own with this ready to use AI use case with SmartPredict. I don't need to hire a data scientist to provide me with such AI-driven performance.
---
What an excellent solution for the detection of financial transaction card fraud. This solution fits perfectly into our security process: it processes all transaction requests and predicts a reliable fraud risk. It is up to us to decide what action to take.
---
It only took us a few minutes, and this AI solution operates on our online platform to investigate fraudulent transactions. It saves us the day, and cost, and prevents us from any kind of scam.