Welcome to the SmartPredict user guide.
We want to make sure you start well.
So we start with an presentation of SmartPredict and instructions on where to go to learn it quickly.
What is SmartPredict?
SmartPredict is an online data science and machine learning (SaaS) platform, with which citizens and experts data scientists, data engineers, machine learning specialists, and developers can carry out a successful end-to-end AI project: from model training to its deployment in the easiest way.
It supports all stages of the machine learning process, including data preparation, model training and validation, model deployment with an intuitive drag-and-drop interface, and AutoML 2.0.
SmartPredict makes it easy for data scientists to get results and stop coding: all ML project processes are available as a module, that can be dragged, dropped and connected together to build manually (Manualflow) 2 flowcharts :
- the flowchart in the Build space : is launched to train evaluate a model,
- the flowchart in the Deploy space : is fully deployed as a Web Service to make the trained model in production.
For even greater speed and ease, SmartPredict has included AutoML 2.0 so that flowcharts are generated automatically (Autoflow).
One of the most interesting features of this platform is the ability to modify, share and debug the ML pipeline (flowchart) as well as the ability to create their own module with the Custom Module.
SmartPredict then gives you more flexibility and allows you to collaborate with others to complete your AI project.
What type of project can you carry out with the platform?
SmartPredict allows you to solve all kinds of classification and regression AI project , with:
- more than 100 types of data pre-processing such as normalization, missing data handling, data encoding, and so on,
- more than 10 powerful ML and DL models,
- and advanced feature engineering.
For the first release, the platform will focus mainly on time series forecasting based on advanced ML and DL model, with which you can have view of the future values in a chart.
But it will not be limited to that, as new features will be added in future releases.
What's more, the pipeline deployment and custom modules allow developers to create a serverless API. An infinite number of project types can be handled for this purpose.
For more help, the some section in tutorial includes real-life use cases of this type of project to get you started.
Where to go to learn more about SmartPredict?
The learning landscape is divided into tutorials, documentation, the community, blog, and showcase.
- Tutorial :
It is composed of 5 sections which contain at most 5 articles (sub-section) that refer to a specific notion to make you quickly understand how to carry out an AI  project in SmartPredict.
We relied on video content and use cases to show you how it works.
The following table describes the tutorial's content :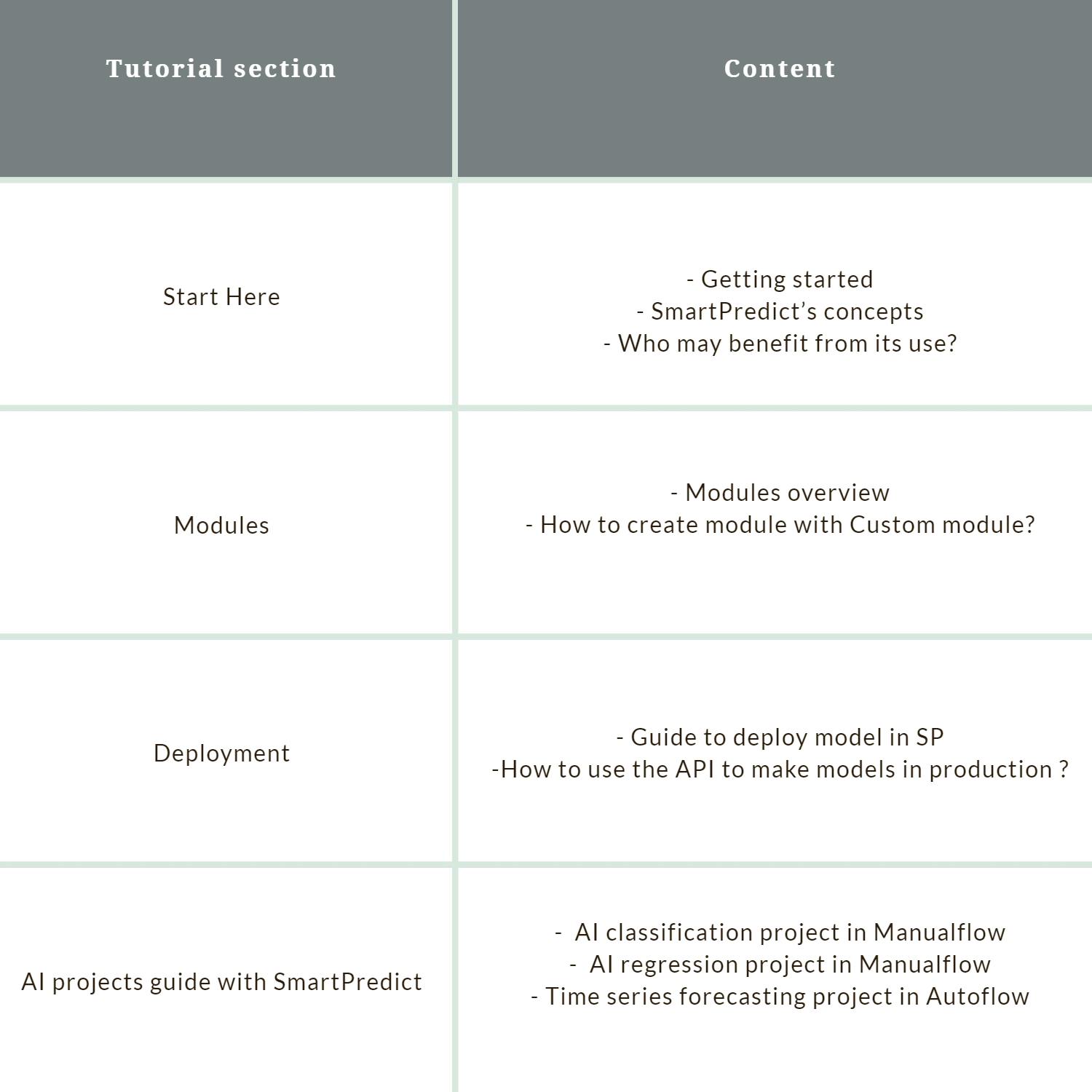 -The documentation gives a complete reference for each module: its parameters, its types of inputs and outputs, its specificity, and its function. Besides, it explains some specific parameters.
- Blog: you will find specific topics about SmartPredict especially its functionality, its concepts, and features and some AI concepts, as well as a report on carrying out an AI project with SmartPredict.
- Community:  a platform where you can ask questions about SmartPredict updates, discuss analysis topics with other users, and connect with the SmartPredict team.
- Showcase reports on a real-life use case of AI ( in business, in IT, etc) treated on SmartPredict.
- Technical support: if you have a premium account you can ask the technical support team.
Stay up to date!
This email has already been subscribed.